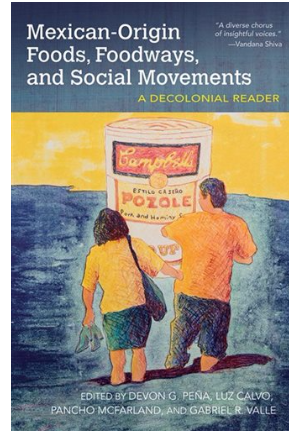 New book from Dr. Devon G. Peña and colleagues
We announce the publication of a new book, Mexican-Origin Foods, Foodways, and Social Movements: Decolonial Perspectives that was funded in part by the Julia Child Foundation for Gastronomy and the Culinary Arts and The Acequia Institute. The book was co-edited by Board Member and President, Devon G. Peña. Contributions include a chapter on the chicos-making tradition written by the late Joseph C. Gallegos and a lovely essay on quelites (Lambsquarters) by San Luis Valley ethnobotanist and healer, Teresa Vigil. The cover artwork was done by Denver-based Chicano artist, Anthony Ortega. The book was published September 1, 2017 by the University of Arkansas Press in the Food and Foodways Series and is available from all major booksellers (in-store, online) and directly from the publisher at this link, Mexican-Origin Foods.
Acequia Institute is featured in
the current issue of Yes! Magazine
In the Water-Scarce Southwest, an Ancient Irrigation System Disrupts Big Agriculture by Shoshi Parks posted Nov 03, 2017.
Water in the American Southwest has never been abundant. Its availability fluctuates depending on conditions like drought and mountain snowpack that feeds streams and rivers. But experts predict a future of greater extremes...
To continue reading....
Click Here